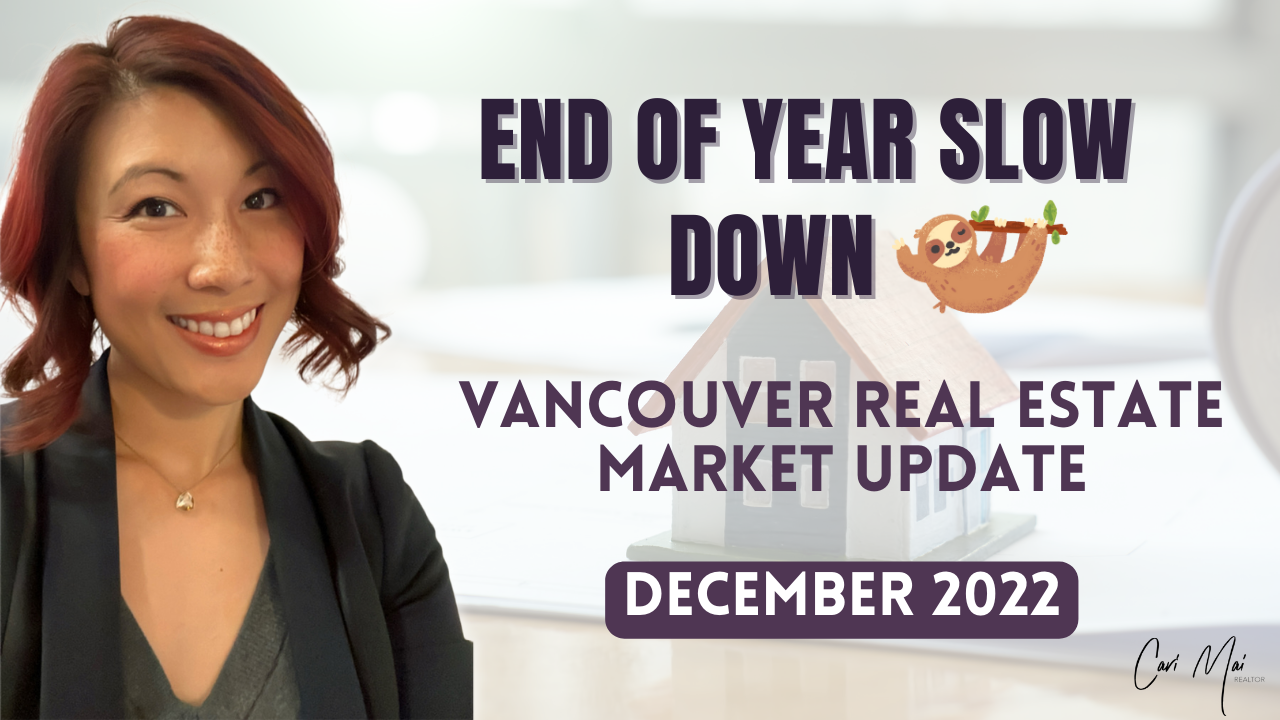 Hi, it's Cari Mai and this is your Vancouver real estate market update for December 2022.
We're entering the final month of the year and we're still seeing home sales and listing activity trend below long term averages across Greater Vancouver.
Sales have dipped below 2,400 transactions last month, making it the 2nd lowest sales count for November in 20 years! When compared with November 2021, Greater Vancouver had over 5,300 homes sold, the 2nd highest ever recorded! A stark contrast with this November's sales numbers!
Regardless, November trends are in line with the season.
As expected, it was quieter last month when compared with October. Detached homes are in "balanced" market territory with 7.4 months of inventory while townhouses and condos continue to favour Sellers with 4.8 and 4.7 months of inventory respectively.
The MLS benchmark price was $1,131,600 across all home types in Greater Vancouver. 
This benchmark dipped less than a percentage point compared with November 2021. In Vancouver, we still have a relatively strong labour market, elevated listing cancellations, and a slow flow of new listings keeping inventory relatively tight. It's hard to say what the bank will do to certainty, especially with another rate increase announcement on December 7th!
Starting January 3, 2023, the new Home Buyer Rescission Period ("HBRP"), also known as the 'cooling-off period'
will come into effect.  Here's what you need to know as this will impact all residential home sales in BC! Buyers will have the right to withdraw from an accepted purchase contract within three clear business days. The province claims that this rescission period will allow all home buyers to have an opportunity to conduct their due diligence, like getting financing and scheduling a home inspection. However, if home buyers decide to exercise their right of rescission, they will need to pay 0.25% of the purchase price for the home as marked in the accepted contract. For a $1,000,000 property, this is a $2,500 penalty.  A small price to pay for buyers to get out of a contract without any legal consequences. Let me know how you think this 'cooling-off period' will affect the BC real estate market in the comments section below! 
As of November 24, 2022, the BC provincial government passed new legislation
which immediately overrides any strata bylaws restricting rentals in their building. This the provincial government's attempt to create more housing availability by allowing thousands more empty condos and townhouses across BC to now be rented out. However, strata corporations can still ban short-term rentals in their buildings, like Airbnb. Also, any age-restriction bylaws limiting residents under age 55 is also scrapped immediately. Senior communities of 55 years and older are still allowed to thrive and in these communities, this age restriction would not apply to a live-in caregiver whose purpose is providing care to an elderly resident. 
I hope that gives you a glimpse into Vancouver's real estate market for December 2022. Feel free to DM me or leave a comment if you have any questions about what you just heard.  Thanks for listening! Wishing you all happy holidays and see you next year!