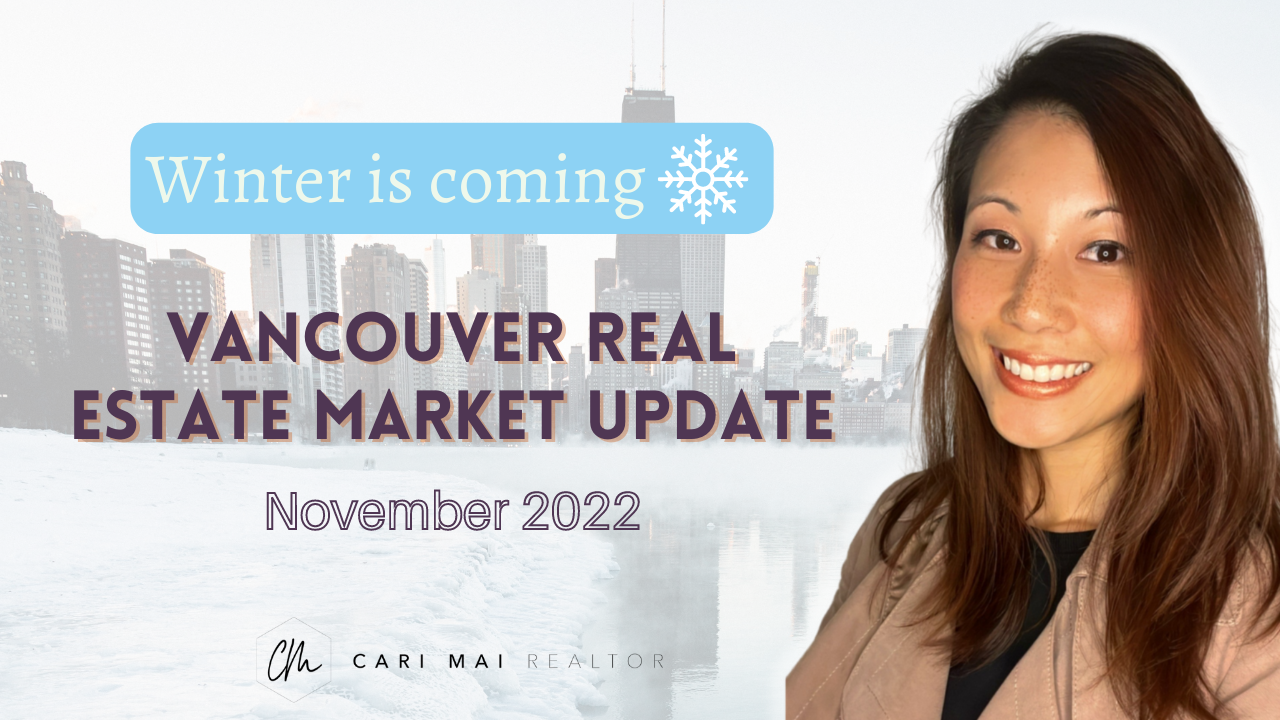 Hi, it's Cari Mai and this is your Vancouver real estate market update for November 2022.
When you see news headlines that read, "Sales dropped 46% from October 2021!!"
Don't freak out! Remember, the market is cooling down from an all-time high. Of course you're going to see a big drop! Last month's sales numbers are falling back to what was seen in early 2019. 
Yes, there are fewer active home buyers and in turn,
we're seeing fewer homes sold BUT the number of new listings that hit the MLS last month is similar to last October! We're seeing a strong labour market, an increased number of listing cancellations, and not a lot of new listings. Although the total number of active listings is higher  compared with last year, inventory is still limited at 18% below the 10 year October average. That in turn is causing us to see median sold prices rise by 4% on average across all home types when compared with September 2022. Detached homes are in "balanced" market territory with ~7 months of inventory while townhouses and condos  continue to favor Sellers with ~4.2 months of inventory.
The MLS benchmark price was $1,148,900 across all home types in Greater Vancouver.  If you bought your home last October, you would've gained an average of 2% in price growth. 
Now I've been asked repeatedly, "when is the real estate market crash going to happen?"
Most likely it won't. 
Here are 3 reasons why the Vancouver real estate market will not crash.
Last week, the federal government announced that they plan to welcome 500,000 immigrants into the country per year by 2025 to fill 1,000,000 job vacancies across Canada! Majority of these immigrants will be skilled workers! This Fall, my open houses have been frequented by workers who were recently transferred from the US and from various countries across Europe. These people will buy as soon as they get their Permanent Resident status. 
Vancouver has seen rental rates skyrocket since this Summer as international students and newcomers to the city, and transplants from other Canadian provinces like, all need a place to stay! We're seeing rental rates of approximately $2,600/month in Vancouver for an unfurnished 1 bedroom condo. Now investors are still out there seeking out rental properties as the high rents can make it worthwhile. And this leads to the 3rd point,
We're seeing more Sellers cancel listings because they cannot get their desired sale price in today's market place. They can afford to do so and may simply just rent it out for the time being and collect higher rent.  This in turn, reduces the housing inventory available for sale which will continue to keep prices high.
In addition to the federal government's immigration targets, there's also the repatriating non-resident Canadians who have plans in the near future to settle down closer to family in Canada. Nobody talks about this group! Typically these people are leaving countries experiencing political and economic instability and are choosing Vancouver as their final destination. Let me tell you, there are a lot of them!
I hope that gives you a glimpse of Vancouver's real estate market for November 2022.  Feel free to DM me or leave a comment below if you have any questions about what you just heard. Thanks for listening and see you next month!