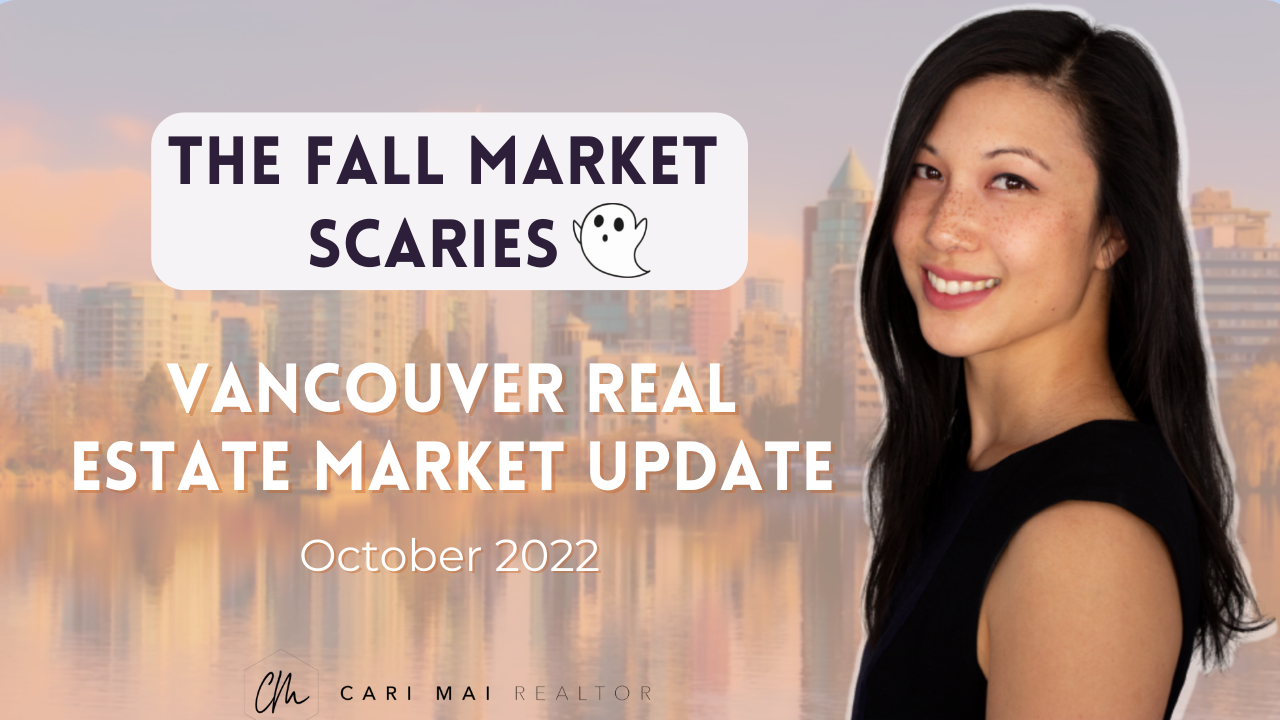 Hi, it's Cari Mai and this is your Vancouver real estate market update for October 2022.
September marked the start of the Fall real estate market!
We saw more homes come on the market while home buyer activity dipped 36% below the 10-year September home sales average. The Bank of Canada has been hiking rates in an effort to curb inflation and the cost of borrowing money has gone up, making it more difficult for buyers to purchase a home.....UNLESS buyers are holding CASH (but more on this later!). Newly listed homes on the market when compared with August 2022 is up 27%,  also bringing up the total number of homes listed on the MLS by 3%. The MLS benchmark price was $1,155,300 across all home types in Greater Vancouver. If you bought your home last September, you would've gained an average of 4% in price growth.
As a personal observation, buyers are pickier and choosier than ever so when listing a home for sale,
Sellers, ensure the pricing for your home is within current market expectations and actually do the minor renovations and staging to make your home stand out in this changing market. Home buyers across age groups are favouring newer homes that are priced and presented well as opposed to older homes needing work!
Now let's talk about who is hurting most in today's Vancouver real estate market:
1. Over-leveraged property investors.
I'm referring to the  investors who are stretched out so thin on taking out Home Equity Line of Credits (HELOCs) on their existing properties to finance subsequent investment properties. Investment properties are typically on variable rate mortgages and so are HELOC rates so, as interest rates rise, your monthly payments rise. Imagine this happening for multiple properties. Now if you're a responsible investor who can withstand higher monthly payments, all the power to you. Now, if you're over-leveraged and if further rates increases will put you over the edge, you're really feeling the hurt now and possibly considering selling an investment property or two soon.
During the summer months, the Vancouver rental market was insanely competitive as students and newcomers to the city were fighting to rent a very limited number of homes. The most expensive city to rent a 1 bedroom home unfurnished is no surprise, West Vancouver at an average of $2,800/month, followed by the City of Vancouver at an average of $2,600/month! The most expensive neighbourhood for the average rent across 1, 2, and 3 bedroom homes is Downtown Vancouver!  Vancouverites are spending on average, over 51% of their income towards rent and that's a lot. Yikes!
Now, the real winners of Vancouver real estate market today are the CASH BUYERS! 
And there are plenty of them in this city right now! We're seeing them in multiple offer situations (yes they're still happening)!
Starting soon, the federal government in Canada is enforcing the foreign buyer ban on residential properties across Canada for 2 years starting on January 1, 2023.
The goal is to prevent non-Canadians from purchasing homes and to help reduce foreign money coming into Canada through real estate. This also restricts non-Canadians from avoiding this ban by using corporations or other entities to purchase residential property in this country. This will not affect Canadian citizens or Canadian Permanent Residents.  What is my take on this? Well this measure is designed to impact foreign home investors who don't ever plan to live in Canada - leaving houses empty which in turn, drives up real estate prices.
Do I think this 2-year "band aid" solution will cool down Canadian Real Estate?
Not long-term but perhaps momentarily because foreign home ownership in places like Toronto and Vancouver is a mere 2% only and experts say that the key issue is housing inventory! There simply isn't enough houses to buy. So instead of creating these interesting foreign buyer bans,  why not build more affordable homes for local Canadians instead? Just a thought. 
DM me if you have questions about what you heard here today! If you found this market update helpful, please support the channel by hitting the subscribe button down below! Thank you and have a great day!